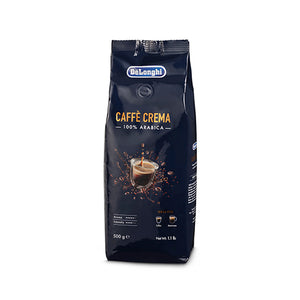 Crema Coffee Beans 500g DLSC606
R 21500

R 215.00
Tax included.
Shipping
calculated at checkout.
---
---
Enjoy a deliciously intense light roast with De'Longhi Caffe Crema coffee beans
COMPOSITION: 100% Arabica
ORIGINS: Brazil, Ethiopia, India
CHARACTERISTICS:
Roasting: light
Aroma: intense with fruity and sugar cane notes
Cream: hazelnut color, with a thickness of 2-4 mm of medium consistency
Body: average, sweet, enveloping
Taste: intense Acidity: persistent but with a sweet finish
SENSORY PROFILE:
Aroma: 5
Intensity: 4
Roasting: 1
SENSORY PROFILE DESCRIPTION:
100% Arabica blend with a surprising balance of sweetness and softness, but also a strong structure with a great persistent taste. The aromatic notes of Ethiopian and Indian beans combines with the warm aromas of Brazilian beans give life to a coffee with an intense and aromatic aftertaste.
FORMAT: 500 g